Saint Martin Island, Wind Adventures Center - 155
by Manu & Cecile
(Saint Martin Island)
The Wind adventures center School is approved by the International. Kitesurfing. Organisation. Our instructors will help you learn new skills according to your level, and we will deliver you the IKO Level card (worldwide recognized). IKO requires quality standards for teaching and safety respect.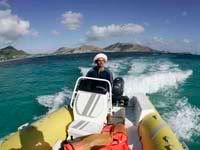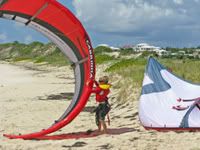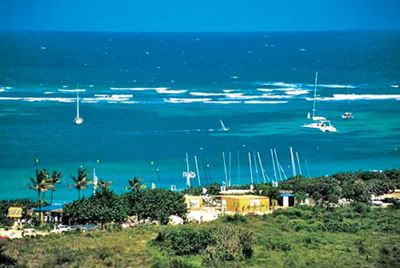 Kite surfing St Martin EFK
The Kite surfing St Martin School is also a certified French Kitesurfing School (Ecole Française de Kitesurf). We also respond to quality standard for safety, new gear, proficient and certified instruction, small groups. Wind adventures center is certified EFK 99907 and did tuition to more than 1000 people.

Kite surfing St Martin Team
Our center is comprised of 4 people, with 2 certified and experienced Kitesurfing instructor. Emmanuel Demanez (Manu), school director who taugh more than 1000 people will find you the best program for your vacation (IKO Level 2 and french Brevet Professionnel kitesurf FFVL). Dominique Dagoreau, (IKO level 2 and french Brevet Professionel FFVL) will be your instructor and make you discover a new passion.

We have the lattest 2008 Gear : Cabrinha kite equipment

Kite surfing St Martin Spot
Orient Bay is only for self suficients kitesurfers. The lauching area is dedicated at the Wind adventures center. From there, you can ride on the right of the bay (Papagayo lagoon), a recommended kitesurfing area. You can also get very good wave-riding there. Please, check the Notice to Kiters.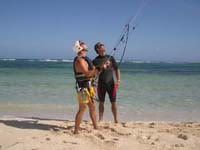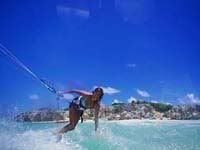 Kite surfing St Martin: Safety
Here at Wind Adventures Center school we use the latest kite surfing gear, Insurance, safety information, rules, environmental respect and proficient instruction in a step by step manner.

Kite Surfing Lesson - Saint Martin:
Side Note: This lesson option is valid for up to 3 students.

Location:
Pinel, Saint Martin

10:00AM to 10:30AM: Meet with the Kite surfing Instructor for an introduction and debriefing of the day

10:30AM to 1:00PM: Kite Surfing Lessons begin

1 PM to 2PM: Lunch on the beach with the group. Please pack a lunch

2 PM to 4PM: Second Part of the kite surfing lesson begins

4:00 PM: Return to beach for final words and finishing up.

So do not hesitate to contact us for the best kite adventure at Saint Martin!
Contact details:
Call us int'l: 00 590 590 29 41 57 - Cel: 00 590 690 36 27 36
Skype us wind-adventures
Open everyday from 9 am to 5 pm local time

Checkout more information about Kitesurfing


Click here to read or post comments
Join in and write your own page! It's easy to do. How? Simply click here to return to Kitesurfing Learn - Tropical Paradise Affiliated centers.