Bill "surfdog" Fagan, South Carolina
by Bill Fagan
(South Carolina)
I grew up on the shores of the Great South Bay, Long Island, NY, fishing, swimming and boating. I even made a living as a professional clam digger during my summers in High School and college. However, my romance with the Sea did not really begin until I acquired my first surfboard at age 12.


This was back in the days of heavy pop-outs with the thick wooden skegs (fin) that took two of us to carry. As if the pristine beaches and bikinied goddesses were not enough, I was swept away by the art of riding Mother Nature's undulating ocean vibrations. Four decades later and I have the same childhood fascination for the ever changing rhythmic pulses of the Sea and am still compelled to ride them.
I live on the coast of South Carolina now with a wife and 4 sons who share in the same attunement with the Sea and love of the thrill of riding her.
Traditionally, each one of my boys started with a boogie board at age 3 and graduated to a surfboard by 5. They range from 13 to 27 now and the core of our family bond is our surfing. Besides surfing in our own backyard, Folly Beach SC, we travel the southeast coast on surf trips and have traveled as far as Hawaii, California, the Baja, Australia, Puerto Rico, and our favorite, Costa Rica. (The plan has been in the works for some time now to secure property in the coastal mountain rainforest of Pacific Costa Rica as our family and friends getaway and eventually my retirement.)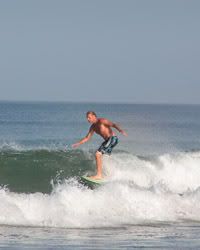 I haven't always had easy access to the pleasures of the sea. For a number of years I was a Psychologist in the Harvard health system in Boston and all my free time was spent studying Martial Arts in Chinatown. I would only get a frozen surf outing once or twice a year. My soul longed for the salty life and I eventually packed up the family moved to an island off of Charleston South Carolina and changed careers.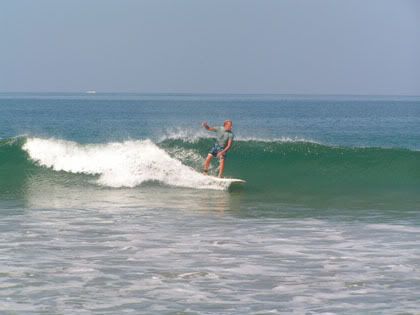 I started, and still run, an "alternative" Health & fitness center called East West Health Arts, teaching mental and physical health through the age old traditions of Kung Fu, Tai Chi & Yoga. We also provide Chiropractic, Massage, Kickboxing, Acupuncture and Personal Training ( I've been awarded "Best Personal Trainer in Charleston" for the last 6 years in a row). All of which contributes to warding off the aging process and keeping me in shape for the waves. My schedule is designed to get plenty of surfing time with my wife Amy and the youngest boys Will & Christian.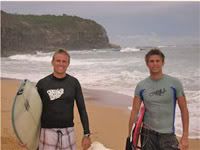 My older boys Chris & Ben ( both established musician/performer/songwriters) have been graced with both adventure and bounty from their enchantment with the Sea. Last year Ben was selected to compete in CBS's "Survivor" spinoff "Pirate Master" maintaining a tallship while competing for treasure through challenges which included various diving , swimming and climbing skills all while sleep and food deprived for 6 weeks. Ben won the 1/2 million $ treasure in the end.
His older brother Chris has been traveling the world with a dream job. He is part of the crew of a 230 ft. state of the art luxury yacht which rents itself to the few who can afford the one million a week pricetag and spends his summers in the Mediterranean and winters in the Caribbean. (Tough life eh?).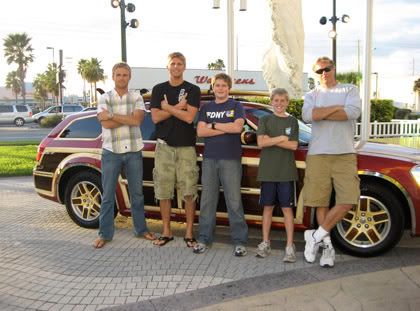 Even though,at times, hemispheres apart barely a day goes by that we don't draw into our lungs the the salty sea air that bonds us all as a family.
Bill "surfdog" Fagan