Greetings! Bonjour,
I hope you are enjoying these early days of Spring - it is such a wonderful time of year for photography! I know we all get a ton of email, so I try to save these newsletters for something I hope you will enjoy. In light of that, here's a brief note to provide you with a few links to sources of my last photos.
If you are in need of a creative boost - click here to check it out - I'd love to hear your thoughts!
Architecture in Caribbean

ViceRoy. Situated on 35 lush acres, with more than 3,200 feet of beach frontage along both Barne,
read more

Ani Villas. As the name suggest Àni North sits on the northern side of the estate and, like Àni Sout.
read more

CeBleu. On one of the world's most private and pristine islands,
read more

La Perla Bianca. With an unique style, super elegant, luxury with white spaces and clear views,
read more
Yachting in Caribbean

Luxury Yacht Charters Symphony II: Campers & Nicholsons hired me to shout Symphony II. She is the 112 ft / 34 m designed by Claudette Boneville. She is a wonder of comfortable elegance and beauty,
read more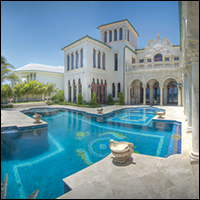 Virtual Tours in Caribbean

Through an expertly produced luxury home virtual tours, your clients can obtain an impactful first impression of a property that will leave them with the memorable images that will want them to take the next step. Specializing in leading-edge, turnkey virtual tours for residential, commercial, tourism, resorts,
read more
Caribbean Beaches

Anguilla beaches Meads Bay is my favorite beach ever. One of Anguilla's popular West End beaches is with no doubt Meads Bay, I have my best souvenirs for many reasons. Below some views of the beach, immaculate powdery beach, absolutely crystalline waters and serene lifestyle…
read more